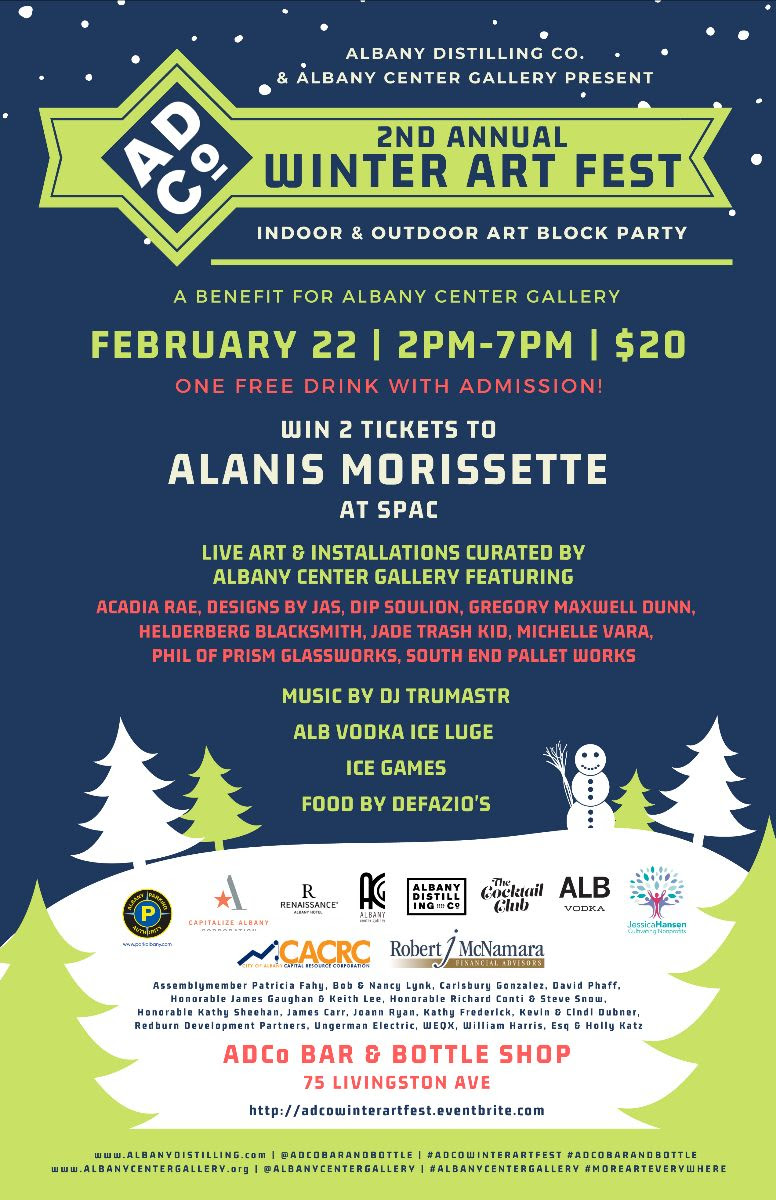 Winter Art Fest was such a huge hit last year we are coming back for round two with a full-on Art Block Party fundraiser for Albany Center Gallery! Join us during the day on Saturday, February 22, for the fun and exciting indoor and outdoor art festival. This event is from 2 p.m. to 7 p.m. and is open to all ages, a full day of excitement for everyone! $20 admission fee includes entrance into the event, a welcome cocktail, delicious smores bar and most importantly supporting the art!

Music by DJ Trumastr, Live art and installations, ALB Vodka ice luge and ice games! DeFazio's Pizzeria will be on-premise for delicious eats and one free Cocktail Club with entry. Tickets on sale below or on the Facebook event page.

Live Art by: Acadia Rae, Designs by JAS, DiP SouLion, Gregory Maxwell Dunn, Helderberg Blacksmith, Jade the TrashKid, miChelle Vara, Phil of Prism Glassworks, and South End Pallet Works.

Thank you to all of our sponsors with a special shout out to Jessica Hansen Consulting, Renaissance Albany Hotel, and Robert J. McNamara for their special support. Additional support by: Assemblymember Patricia Fahy, Bob & Nancy Lynk, Carlsbury Gonzalez, David Phaff, Hon. James Gaughan & Keith Lee, Hon. Richard Conti & Steve Snow, Hon. Kathy Sheehan, James Carr, Joann Ryan, Kathy Frederick, Kevin & Cindi Dubner, Redburn Development Partners, Ten Eyck Group, Ungerman Electric, WEQX, and William Harris, Esq & Holly Katz

Grab your ticket today! $20 per ticket for 21 years old and up, $15 per ticket for 10 – 20 years old. Free for kids 9 and under (Must be accompanied by an adult of legal drinking age).

(Photos: Winter Art Fest Sponsor Poster & various group shots from Winter Art Fest 2019. Photos by Kiki Vassilakis.)
Vote for ACG as Best Art Gallery!
This year, ACG is a proud nominee for "2020 Best of the Capital Region" through the Times Union. Nominations last until Friday, February 7, 2020, and the top 5 votings begin on Monday, February 24. We hope you will consider voting for Albany Center Gallery for the "Best Art Gallery."

Scroll down to "Arts & Entertainment" to vote directly, but we encourage you to vote in all categories. Your voice matters! You can vote once a day until then.
Object Lessons Satellite Exhibit
Opens Friday, March 6
Object Lessons premieres on Friday, March 6, with an opening reception at 6:30 p.m. to 8:00 p.m. at the library's Washington Ave. Branch. The photo exhibition will be open during branch hours and run through Saturday, April 18.

Object Lessons was created by Nina Berman, an award-winning documentary photographer, filmmaker, author, and educator from New York City, to bring awareness to the ever-growing issue of sex trafficking in the Capital Region and beyond. The exhibition depicts the evidence used to try and convict sex traffickers, including victims' clothing and the weapons used to coerce victims into submission. This exhibition will inform the public about the nature of these sex trafficking prosecutions and the brave victims who choose to tell their stories.

To learn more about our partners from this project, please visit their corresponding websites at Albany Center Gallery, the Capital District Women's Bar Association, and the Albany Public Library. Photo credits to Nina Berman.
Check Out New ACG Store Inventory!
Remember to Shop Local.
Stop by soon to check out our selection of pottery, small paintings and other functional art from local artists. The Store @ ACG is open during gallery hours, Tuesday – Saturday, Noon to 5 p.m.