It's one week away on Nov. 19 | Silent Auction is LIVE
How to: SILENT AUCTION: Go to www.accelevents.com/e/comeasyouartgala & locate the "auction" tab. You can scroll or choose a category via the drop down menu underneath "Total Funds Raised". You can "heart" to make a favorites list, share, "Bid Now", or click "More info".

Or you can text to bid at (205) 782-9347 with the item's three letter code, which can be found in the blue box on the item's icon, and bid amount (i.e. HWC25 or HWC$25).  You can enter your card, billing, and other information then. You will NOT need to enter it every time. 
Please check on your bids and explore other ways to donate on the site. All donations and bids end the Sunday AFTER the gala on November 21, at noon. Bid often and early! Items will go quickly.

If you have any questions, you can email Karina at [email protected]. If you've won items, you will receive an email on Sunday after the auction closes. 
Thank you!
Keep refreshing the site, as we are constantly adding new items! Happy bidding!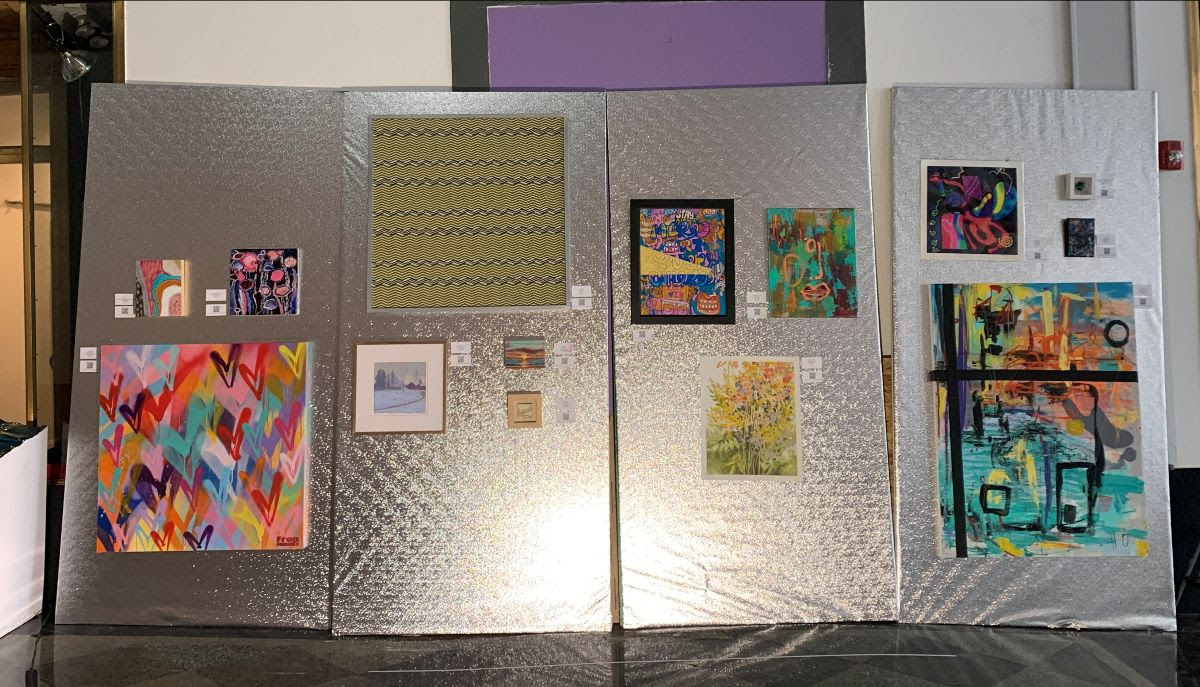 GOOD NEWS! The artwork that is available in the silent auction is on display in the Arcade Hallway at ACG for a few days: Saturday Nov 13,  Tuesday Nov. 16, & Wednesday Nov. 17. Plan to swing by the Gallery for a few minutes to check it out IN PERSON, as well as the current exhibition, Gallery Mixtape Vol, 1. 
Thank you to the auction & artist donors
Auction Donors: Albany Institute of History & Art, Albany Symphony, Ania Hair Studio, Annette Nanes, Arlene's Artist Materials, Art Associates Gallery, The Bell House Project, Book House, Capital Region Classical, Capital Rep Theatre, Carlsbury Gonzalez, City Line Bar & Grill, Colonial Cleaners, David Phaff, Ellen Brickman, Hoffman Development Corporation, Holly Katz, Honest Weight Food Co-Op, Jessica Hansen, Kevin & Cindi, Dubner, Lark Street Mercantile, Lisa Brown, Lysenko Dental, Musicians of Ma'alwyck, National Baseball Hall of Fame, New World Bistro Bar, Nine Pin Cider Works, Proctors Theatre, real [FIT] life, Renaissance Hotel, Rita Papandrea, Silver Parrot, South End, Powder Coating, Tina Lincer, Troy Savings Bank Music Hall, USS Slater, Western Turnpike Golf Course, & William Harris, Esq

Artist Donors: Elisa Sheehan, Free Humanity, Hazal Canisag Ozturk, Jae Schalekamp, Kim Tateo, Laura Cannamela, Leo Valenchis, Lexi Hannah, Robert Gullie, Robert Moylan, Ruby Silvious, Sylvie Kantorovitz, Tina Lincer, & Willie Marlowe
When: Friday, November 19, 2021 at 7:00 p.m.
Where: ANYWHERE
How: Buy your ticket!!
It's virtual like last year but our team will be streaming live from the beautiful The Kenmore Ballroom. You'll be able to get an exclusive look into the space as well as fun entertainment by glorious co-hosts Nicole Dama and Tony Iadicicco. TUNE IN Friday, Nov. 19 at 7pm. There will also be live performances by Dha'Sean and D Colin as well as on-going live painting by Kim Tateo! (More info about the awesome artists coming soon). There will be a live auction, the distribution of the 3 awards (the Mona Ruth Brickman Memorial Artist of the Year Award, the Dr. Joel Spiro Community Impact Award, and the Les Urbach Lifetime Achievement Award), and highlights from the past year with ACG.
We may say "gala" but it's really just a night of ART and LOVE and COMMUNITY. Let's share it together. And maybe next year we can celebrate again… in person! This year, we're inviting our community to "come as you are" to the Gala. Come as you are, how you want, with whom you wish! We just want you there.

There are four levels of general admission tickets:
$25 – admission to the event, program book, a Support Local Art sticker designed by local artist Cara Hanley, the latest #CapitalWalls mural map, a specialized cocktail & mocktail drink menu, and more!
$50 – all the above benefits, two drink coasters, and a NEW More Art Everywhere magnet designed by local artist Chloe Harrison
$75 – all the above benefits, a matching NEW More Art Everywhere pin, AND $5 off a ticket to February 2022's Winter Art Fest with Albany Distilling Co.
$100 – all the above benefits AND a free raffle ticket for the Gala Raffle