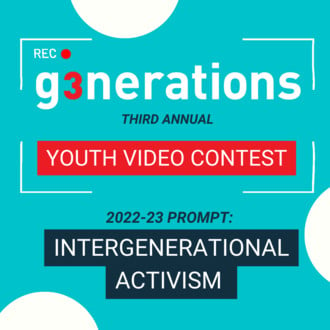 "Intergenerational Activism"
From climate change and racial justice to reproductive rights, youth activists have been at the forefront of our social movements for decades. We want to know how you make your voice heard on the issues that matter to you, and what you've learned from experienced activists who came before you.
Create a fiction or non-fiction video, between 2 – 7 minutes in length, that explores activism using an intergenerational perspective.
Some guiding prompts that your video can address include:
– What do you hope tomorrow looks like and how does activism move us toward that future?
– Tell the story of a moment that defines your generation of activists.
– What do we have to learn from activists from younger and/or older generations?
– Tell an intergenerational story about how your elders have impacted you, and/or how you have impacted them.
– How has social media changed activism for your generation?
– How will future generations of activists view us?
The 3 Generations Youth Video Contest is open to emerging filmmakers between the ages of 15 and 24. Older filmmakers are encouraged to submit an intergenerational film with a younger filmmaker. We welcome first-time videographers as well as experienced filmmakers.
We want this contest to reach as many young filmmakers as possible so please share with your communities and on social media. We seek diverse submissions that represent multiple worldviews and cultural backgrounds.
Questions? You'll find a link to a video with the basics of our contest in our Instagram bio or you can reach out to us at [email protected].
Awards & Prizes
Prizes will be awarded at the 3G Video Contest Virtual Awards Celebration, time & date TBD.
Awards categories include:
– Filmmaker between the ages of 15-18 – Prize $500
– Filmmaker between the ages of 19-24 – Prize $500
– Intergenerational team – Prize $500 each, up to 2 members
– Viewer's Choice Award – $500
Questions? [email protected]
Rules & Terms
3 Generations Youth Video Contest 101
www.youtube.com/watch?v=URNIWtn1NkA
– No-fee early bird deadline: February 15th, 2023.
– Submissions after February 15th, 2023 require a $5 entry fee.
– Regular deadline April 15th, 2023.
– Directors/producers must be between the ages of 15 – 24.
– For an intergenerational team, one team member must be under 24 and one team member must be over 60.
– Submissions must be tied to a social justice concept and respond in some way to the suggested prompts.
– Films must be between 2 and 7 minutes in length including credits.
– Submissions can come from anywhere worldwide but must be in English or include English subtitles.
– One submission per participant/team.
– Films do not require premiere status but must have been produced within the last 2 years.
– All awards will be paid in US dollars via Paypal.
– The contest only accepts submissions via FilmFreeway. Once your registration details are complete, you will be able to upload your film as a digital file or provide a password-protected Vimeo link.
– We will not confirm the receipt of submissions. Applicants will be notified via email about the selection/rejection of their film.
– Your content belongs to you. However, upon submission, the applicant grants 3 Generations the right to screen their submission online, and use material from the submission for promotional purposes.
– Any submission available online prior to the online screening or previously screened publicly will be disqualified.
– Submissions may not contain material that violates another's copyright, breaks licensing rights, or otherwise infringes upon another's rights, including but not limited to privacy, publicity, or other intellectual property rights. With this submission, the applicant confirms that they possess all rights necessary for the screening of their submission for our video contest.
– In the event of any copyright infringement, the contestant accepts full legal responsibility.
– All submissions with messages that are deemed inappropriate or offensive will be disqualified.
– Any person(s) appearing in your video (including but not limited to persons videotaped, quoted, or recorded) must provide written consent.
– At the point of submission, you will be asked if you have read and agreed with the festival's regulations. By agreeing to proceed with your submission, you are agreeing to these regulations and your application can then be processed. Entry of a film is binding and implies acceptance of these regulations.
– In the event of disagreement concerning the regulations, the interpretation of 3 Generations and the contest is final.
– Failure to comply with these regulations will result in disqualification.
– These regulations are subject to change without prior notice.
Questions? [email protected].