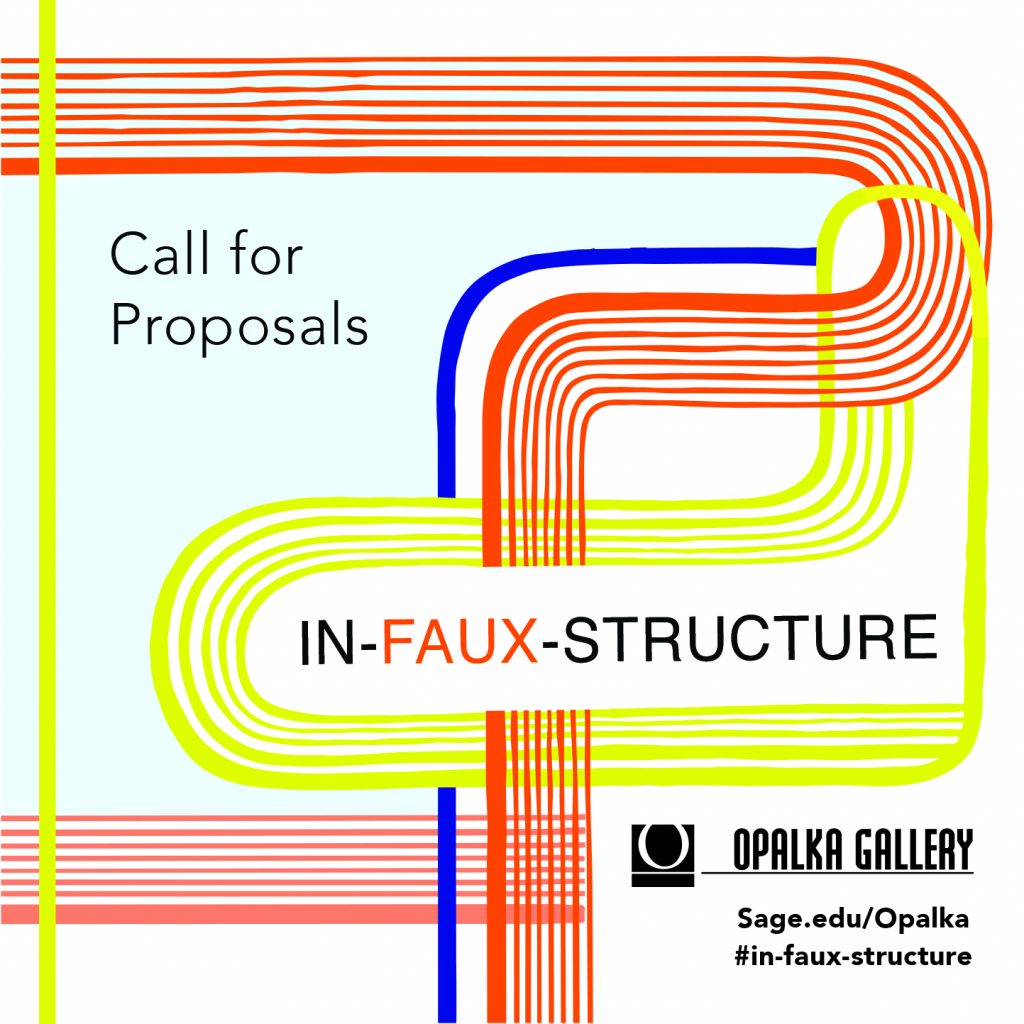 NOW ACCEPTING PROPOSALS until April 1, 2019. (see below for application requirements)
Roads. Pipes. Wires. Bureaucracies. These words describe infrastructure.
In-faux-structure, an ambitious indoor/outdoor exhibition scheduled for August – October 2019, will investigate gender and identity as they relate to infrastructure. Who makes decisions related to infrastructure? Who is responsible for the labor? Who designs it?
This exhibition opportunity is open to artists and non-artists to consider their definition of infrastructure, how it can be improved, who it serves, who it doesn't serve, and who is left out altogether. We are seeking playful responses to the systems that surround us.
The name In-"faux"-structure refers to false or erroneous meaning related to infrastructure, the ephemeral nature of building materials, and other ambiguities related to physical and social systems and their creation.
EXHIBITION GOAL
In-faux-structure will create an awareness of inequities related to infrastructure, its planning, its building, and its public face. The project will encourage dialogue between artists and collaborators and spark dialogues through exhibition-related events and community engagement.
CALL FOR WORK
In-faux-structure is open to those working in all media – and to new and existing work. Proposals for site-specific and related projects — including projects outside the gallery and expanding into the community — are encouraged. We welcome artists who wish to collaborate and will help you find the right person(s) with whom to collaborate. Collaborators may include other artists, people working in the trades, engineers, architects, poets, social activists, etc. We can provide a layout of the space (indoor and outdoor) for artists to consider. Individual and collaborative proposals may respond to social, emotional, or physical issues related to infrastructure. We welcome humor, irony, and creative interpretations of the topic. NOTE: We have a shared Google doc for people who would like to find collaborators. Email a request for access to : [email protected]
Proposals may respond to the following or related ideas:
The planning of infrastructure
The naming of infrastructure
Connection (physical, social, etc.)
The relationship of power to gender, racial, or other identities
"Fixing" problems related to structures
The maintenance of infrastructure
Erosion of infrastructure
Reimagining existing structures or networks
APPLICATION REQUIREMENTS
Applications require the following materials. Documents should be compiled into one PDF document; please include the last name of the lead applicant in the file name of the attachment. Incomplete applications will not be considered.
Name(s) of artist/participant
Statement of Purpose or Artist Statement
Resume or CV
Project Description: No more than one page description of your proposed project. *Note if the artwork is intended for indoor or outdoor installation.
Project budget
Names and contact information of three (3) references able to speak to your participation in a collaborative setting. *References will only be contacted if your project advances to the semi-finalist round.
Up to 6 work samples/images. You may include video samples (2 minutes max, total). *Work should demonstrate the proposed concept.
HOW TO APPLY
Submit applications to: [email protected] by APRIL 1, 2019, 11:59PM.
Late or incomplete applications will not be accepted.
PROJECT EVALUATION
Exhibition organizers will select projects based on the following criteria:
Interpretation of exhibition them.
Artistic excellence
Lead artist with a proven record of ability to fulfill projects with high standards of quality
PROJECT SELECTION
There will be two rounds of participant selection. Semi-finalists will be given a small stipend for further project development. Finalists will be awarded fees based on proposed budget, available funds, and other considerations.
Round 1
Applications Due April 1st. Semi-finalists announced by April 12th.
Round 2
Applications Due May 3rd. Finalists announced by May 17th.
INSTALLATION
Installation will begin in July 2019 for an exhibition opening August 9th, running through mid-October.
Link to Opalka's Website